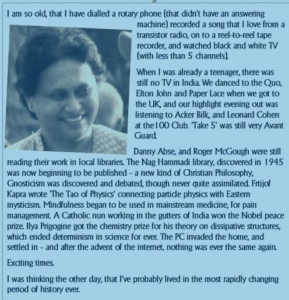 My interest in education started when I joined the St Paul's Cathedral education department as a volunteer, to give visiting school children a bit of background knowledge about some of the artefacts in the cathedral. I also found myself assisting with the maths unit being taught using the architecture of the building.  I moved on to provide for two years a science based educational experience for gifted and talented students using music and drama to highlight the science stories, at Westminster Abbey.
As a corporate consultant, I have assessed, agreed training plans and delivered training to senior managers in a range of companies, as a part of the corporate change management process, induced by their recent experience of financial difficulty.
I have run consultancy projects all over the world, for the UK electricity supply industry.  I have worked in the City as a business planner and a researcher in the Stock Exchange's strategic research unit, in a period of rapid change in the financial services industry.
I have designed internship programmes and induction programmes in almost all the various companies which I have encountered.  I am still a consultant in a small investment management firm, assisting with their marketing and compliance work.
Over all this experience, I notice that one of the key factors which gives rise to problems in companies, charities and other places of employment is the inability to pay attention at will.  I am writing a book now about how I was taught to pay attention.  You can read the prologue here.
Having been taught how to pay attention at age 11, I thought this was where I would start with my life skills education programme.
I have developed a four part life skills course, which was delivered to the Waterloo job shop in 2015.
Go to this page, to see details of what I offer to parents, schools and students of World Class Schools, (the kitemark organisation) which invited me to be their charity partner.  It contains four courses.
And this page includes a free teaching resource for them.