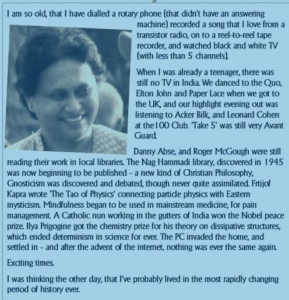 My interest in education started when I joined the St Paul's Cathedral education department as a volunteer, to take school children a background in some of the artefacts in the cathedral, aside from assisting with the maths unit being taught using the architecture of the building.  I moved on to provide for two years a science based educational experience for gifted and talented students using music and drama to highlight the points being made.
As a corporate consultant, I have assessed, agreed training plans and delivered training to senior managers in a range of companies, as a part of the corporate change management process, induced by their recent experience of financial difficulty.
I have run consultancy projects all over the world, for the UK electricity supply industry.  I have worked in the City as a business planner and a researcher in the Stock Exchange's strategic research unit, in a period of rapid change in the industry.
I have designed internship programmes and induction programmes in almost all the various companies which I have encountered.
Over all this experience, one of the key factors which gave rise to problems in companies, charities and other places of employment was the inability to pay attention at will.
Having been taught how to pay attention at age 11, I thought this was where I would start with my life skills education programme.  I have developed a four part life skills course, which was delivered to the Waterloo job shop in 2015. E learning courses are available to be customised at your request to help the transition from education into the workplace, to improve the employability of students.